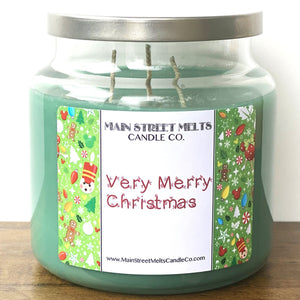 VERY MERRY CHRISTMAS Candle 18oz
Regular price $35.00 $28.00 Sale
Very Merry Christmas- "Capture the magic of Christmas morning all season long with this delightful Christmas aroma. Subtle wood tones support classic pine notes for a fragrance that is smooth yet strong. This fragrance is infused with natural essential oils, including Patchouli, Cedarwood, Fir Needle and Spearmint and is sprinkled with a beautiful gold dusting of festive glitter" 
Receive FREE SHIPPING on Orders of $50+ (Enter code "SHIPFREE" at checkout)

Main Street Melts candles are made with All-Natural Soy Wax, as well as Disney Travel-Inspired Natural and Essential Fragrance Oils.

Each Candle is Hand-Mixed and Hand-Poured. Our candles make the perfect gift for those who love soy candles AND Disney!


TIPS-
Good Candle Burning Practices:
1. Trim wick to 1/4" each time before burning (do not trim before first burn)
2. Never leave lit candles unattended
3. Place candles in a safe location away from children and pets
4. Burn for 2-4 hours at a time, allowing the wax edges to melt evenly and to the edge before extinguishing, especially important for your first burn*


Visit us on facebook.com/mainstreetmeltscandleco
Follow us on instagram @mainstreetmelts_candleco
Check out our Social Media for announcements, coupon codes and more!

Thank you for shopping with Main Street Melts Candle Co.

Have a Magical Day!