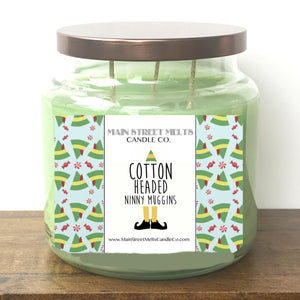 COTTON HEADED NINNY MUGGINS Candle 18oz
Regular price $35.00 $28.00 Sale
Cotton Headed Ninny Muggins "the crispness of swirly candy canes combine with the warmth of hot cocoa and cream rounded out with sugared gum drops"

Receive FREE SHIPPING on Orders of $50+ (Enter code "SHIPFREE" at checkout)


Main Street Melts candles are made with All-Natural Soy Wax, as well as Disney Travel-Inspired Natural and Essential Fragrance Oils.

Each Candle is Hand-Mixed and Hand-Poured. Our candles make the perfect gift for those who love soy candles AND Disney!


TIPS-
Good Candle Burning Practices:
1. Trim wick to 1/4" each time before burning (do not trim before first burn)
2. Never leave lit candles unattended
3. Place candles in a safe location away from children and pets
4. Burn for 2-4 hours at a time, allowing the wax edges to melt evenly and to the edge before extinguishing, especially important for your first burn*


Visit us on facebook.com/mainstreetmeltscandleco
Follow us on instagram @mainstreetmelts_candleco
Check out our Social Media for announcements, coupon codes and more!

Thank you for shopping with Main Street Melts Candle Co.

Have a Magical Day!