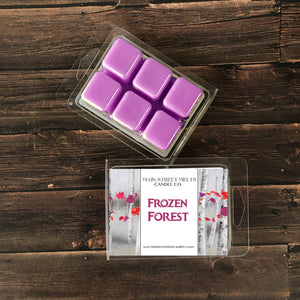 FROZEN FOREST Soy Wax Melt
Regular price $5.95 $5.95 Sale
Frozen Forest "infused with the refreshing scent of White Birch, adding layers of sophistication to traditional pine scents with vivid notes of eucalyptus, cypress, and sweet tonka beans, creating a unique aromatic crispness."

*This listing is for one Pack of Melts, which includes 6 cubes.

**Please note that Soy Wax Melts are to be used with a Wax Melts Warmer and do not have a wick.


Receive FREE SHIPPING on Orders of $50+ (Enter code SHIPFREE at checkout)

Main Street Melts candles are made with All-Natural Soy Wax, as well as Disney Travel-Inspired Natural and Essential Fragrance Oils.

Each Candle is Hand-Mixed and Hand-Poured. Our candles make the perfect gift for those who love soy candles AND Disney!



***Visit Our Shop for Soy Wax Jar Candles and more Melts options


Visit us on facebook.com/mainstreetmeltscandleco
Follow us on instagram @mainstreetmelts_candleco
Check out our Social Media for announcements, coupon codes and more!

Thank you for shopping with Main Street Melts Candle Co.

Have a Magical Day!