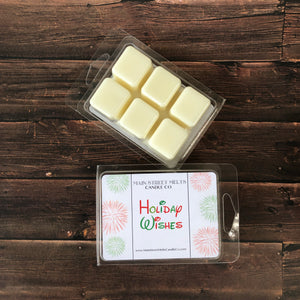 HOLIDAY WISHES Soy Wax Melt
Regular price $5.95 $5.95 Sale
Holiday Wishes- "It's the spirit of the season, You can feel it in the air, You can hear it if you listen, Everywhere'... Our Holiday Wishes fragrance evokes a festive spirit and good cheer with this warm and inviting blend of oranges, lemons, apple cider, and cranberries. A classically nostalgic Christmas scent"


Receive FREE SHIPPING on Orders of $50+ (Enter code SHIPFREE at checkout)

Main Street Melts candles are made with All-Natural Soy Wax, as well as Disney Travel-Inspired Natural and Essential Fragrance Oils.

Each Candle is Hand-Mixed and Hand-Poured. Our candles make the perfect gift for those who love soy candles AND Disney!


***Visit Our Shop for Soy Wax Jar Candles and more Melts options


Visit us on facebook.com/mainstreetmeltscandleco
Follow us on instagram @mainstreetmelts_candleco
Check out our Social Media for announcements, coupon codes and more!

Thank you for shopping with Main Street Melts Candle Co.

Have a Magical Day!