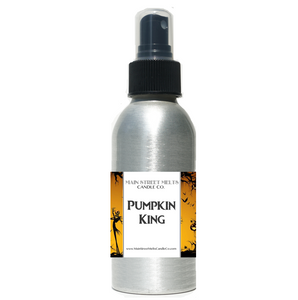 PUMPKIN KING Room Spray
Regular price $14.00 $11.20 Sale
PUMPKIN KING Fragrance Spray Disney-Inspired - 4oz

Pumpkin King- "Pumpkin King is a breathtakingly warm, toasted pumpkin spice fragrance that is both spicy yet comforting and sweet. Our Jack Skellington inspired fragrance will remind you of autumn festivals, pumpkin carving, and bonfires. Toasty top notes of cinnamon, nutmeg, and clove give way to middle accords of silky buttercream and pumpkin. A base of smoked embers and vanilla gives this scent a warm twist on a classic fall fragrance."


Receive FREE SHIPPING on Orders of $50+ (Enter code SHIPFREE at checkout)


*Visit Our Shop for more Fragrance Spray options as well as Soy Wax Candle Jars and Soy Wax Melts.


Visit us on facebook.com/mainstreetmeltscandleco
Follow us on instagram @mainstreetmelts_candleco
Check out our Social Media for announcements, coupon codes and more!

Thank you for shopping with Main Street Melts Candle Co.

Have a Magical Day!