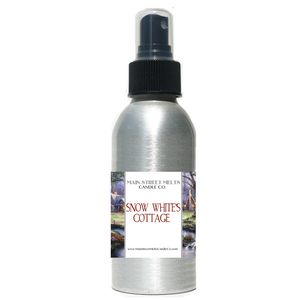 SNOW WHITE'S COTTAGE Room Spray
Regular price $14.00 $11.20 Sale
Snow White's Cottage - "Warm and comforting, our Snow White's Cottage fragrance puts a twist on the classic fall and winter scents of spiced cider and roasted chestnuts. This highly scented fragrance begins with orange peel, nutmeg, and clove notes blended perfectly with rich nutty undertones of vanilla and caramel."
Receive FREE SHIPPING on Orders of $50+ (Enter code SHIPFREE at checkout)


*Visit Our Shop for more Fragrance Spray options as well as Soy Wax Candle Jars and Soy Wax Melts.

Visit us on facebook.com/mainstreetmeltscandleco
Follow us on instagram @mainstreetmelts_candleco
Check out our Social Media for announcements, coupon codes and more!

Thank you for shopping with Main Street Melts Candle Co.

Have a Magical Day!