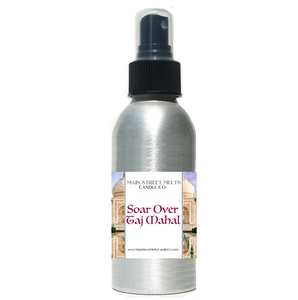 SOAR OVER TAJ MAHAL Room Spray
Regular price $12.95 $12.95 Sale
SOAR OVER Taj Mahal Fragrance Spray Disney-Inspired - 4oz

"One of our Soarin' Series fragrances mimics the fragrance while Soarin' Over the Taj Mahal with top notes that capture the essence of a rose garden in peak bloom and beautifully blends in aromas of Sandalwood. This scent is infused with natural essential oils, including Elemi oil, Rose and Sandalwood."


Receive FREE SHIPPING on Orders of $50+ (Enter code SHIPFREE at checkout)


*Visit Our Shop for more Fragrance Spray options as well as Soy Wax Candle Jars and Soy Wax Melts.


Visit us on facebook.com/mainstreetmeltscandleco
Follow us on instagram @mainstreetmelts_candleco
Check out our Social Media for announcements, coupon codes and more!

Thank you for shopping with Main Street Melts Candle Co.

Have a Magical Day!