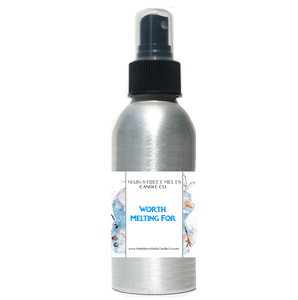 WORTH MELTING FOR Room Spray
Regular price $12.95 $12.95 Sale
Worth Melting For - "this fragrance will surely thaw a frozen heart, combined with the tartness of cranberries and currants with pleasing herbaceous accords, you will melt for this Cranberry Woods aroma"
Receive FREE SHIPPING on Orders of $50+ (Enter code SHIPFREE at checkout)
*Visit Our Shop for more Fragrance Spray options as well as Soy Wax Candle Jars and Soy Wax Melts.
Visit us on facebook.com/mainstreetmeltscandleco
Follow us on instagram @mainstreetmelts_candleco
Check out our Social Media for announcements, coupon codes and more!
Thank you for shopping with Main Street Melts Candle Co.
Have a Magical Day!